Come to the Public Workshop
SMTC and the NYSDOT will be holding the first round of public workshops for The I-81 Challenge this week. The workshops will be held in an open house format and will feature interactive stations where you can explore the history of I-81 and the state of the highway today, share your vision for the future, and be part of the process for determining how we decide what options make sense for our region. The same information will be presented at each workshop, so drop in anytime and stay as long as you like.
Drop in at any time on any day: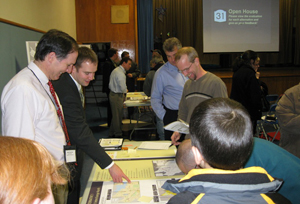 Tuesday, May 3 from 4 pm - 8 pm
Wednesday, May 4 from 4 pm - 8 pm
Saturday, May 7 from 9 am - 12 pm
Location:
Oncenter Ballroom (lower level)
800 South State St.
Syracuse, NY
Click here for directions to the Oncenter. Free parking will be available at the Oncenter garage.
Need special accommodations? The meeting facility is handicapped accessible. To request special accommodations, please contact the SMTC at 422-5716 or contactus@theI81challenge.org.
Need language assistance? Call us at 315-944-2014 (you must dial the area code) or e-mail us at contactus@theI81challenge.org. Requests must be received by April 15, 2011.
¿Habla usted español? Usted tendrá intérpretes disponibles en español en todas las reuniones. Para más ayuda por favor llame al 315-944-2014 (debe marcar el código de área).
Quý vị có nói tiếng Việt không? Sẽ có thông dịch viên người Việt theo yêu cầu. Xin gọi số 315-944-2014 (quý vị phải quay số khu vực) và để lại lời nhắn yêu cầu thông dịch viên. Xin bao gồm luôn cả tên, số điện thoại và ngày tham gia chương trình hội thảo của quý vị mà quý vị định tham gia. Các yêu cầu xin thông dịch viên phải được nhận trước ngày 15 tháng Tư, 2011.
Can't attend a public workshop? The virtual workshop is now available 24/7. It is designed to replicate the in-person workshops. Click here to participate.